GoBox International
The GoBox subscription comes with a full GoPiGo robot car kit plus a year's worth of new missions (and a total of 11 robot sensors) mailed quarterly! GoBox International ships everywhere outside the USA! USA customers check out GoBox USA. "Missions Only" option is available for those that already have the GoPiGo!
$254.97
Due Today (includes Signup Fee and 1st Shipment)
+ $47.97/month
Each quarter for three quarters.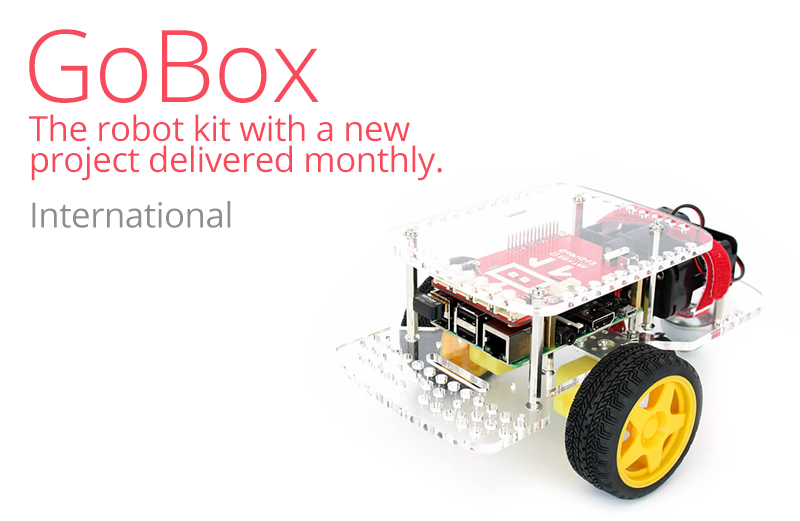 About GoBox
For International customers only (outside the USA, USA customers go to GoBox USA).
The GoBox International ships quarterly instead of monthly (four total shipments). Your first delivery will include the GoPiGo3 robot kit along with the sensors you need for Missions 1, 2, and 3. The rest of the shipments will just include sensors to accompany 3 more missions each time. GoBox includes a total of 12 missions, supported by 11 sensors/actuators.
Already have the GoPiGo robot? The Missions Only product only includes 11 missions and 9 sensors. It is the option for those that already have the GoPiGo.
The missions are in a story form of step-by-step instructions that take you through the whole experience. You'll have full access to our video library and support forums as well. The monthly sensors include the Light & Color Sensor, Loudness Sensor, Distance Sensor, Grove Buzzer, Grove LED, Grove PIR Motion Sensor, Grove Button Sensor, Grove Infrared Sensor, Infrared Remote Control, and the GoPiGo Line Follower. Missions teach you how to program your GoPiGo robot car & accompanying sensors in Bloxter to accomplish tasks and learn new concepts!
Overview
Each shipment includes access to each Mission along with the following sensors, spread out over the following 11 months.
Mission 1 includes everything you need to get started with the GoPiGo, including the following items:
GoPiGo Base Kit
Raspberry Pi 3
Power Supply Wall Adapter (110-240V)
microSD Card (the card included has our custom software, DexterOS, so you can use it to program in Bloxter & Python, but to use other languages like Node.js, Java, C and others, you'll need to download and install Raspbian for Robots yourself onto this SD card.)
USB Drive for DexterOS
Access to all 12 Missions
Mission 2 Obstacle Course – 3D printed character and Dexter stickers
Mission 3 Biomimicry – Light & Color Sensor
Mission 4 Noise Patrol – Loudness Sensor
Mission 5 Service Animals – Distance Sensor
Mission 6 Timer – Grove Buzzer
Mission 7 Finite State Machine – Grove LED – Red
Mission 8 Red Light, Green Light – PIR Motion Sensor & rubber bands
Mission 9 Morse Code – Grove Button Sensor
Mission 10 Smart Car – Grove Infrared Receiver and Infrared Remote Control
Mission 11 Cookie Delivery Service – GoPiGo Line Follower
Mission 12 Seismograph 2.0 – Sensor Mount
Read more on the GoBox page.
What's not included?
Batteries: GoPiGo requires 8 AA batteries, which are not included.
What else can I do with the GoPiGo?
There are lots of free projects online you can try such as building a GPS guided robot, browser streaming robot, attach a cannon to it, drive it with a PS3 controller, and many more.