Kits That Fit
Tell us what concepts you want to teach and technology preference — we'll find the perfect kit for you.
Curriculum
Projects & curriculum developed by teachers. GoPiGo is being used to teach everything from coding to geography!
GoPiGo in the Classroom
We've designed the GoPiGo robot car for the classroom. It's easy to set up, use and manage in the classroom so you can engage all of your students in every subject.
Equipping Educators
We believe that great educators are the key to a successful future. We seek to equip you with the best teaching tools and resources — to make learning about technology more accessible for everyone. DexterEd aims to make it easy for you to select, test, buy, and teach.
Advanced Learners
Check out what Google's Cloud Vision API team did with the GoPiGo — turning it into a smart robot that can detect objects and emotions.
Get the Advanced Starter Kit or Classroom Kit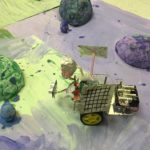 5 lessons about space exploration, using a GoPiGo Mars Rover!