GoPiGo3 Classroom Kit
This product has been updated! Discover the new GoPiGo for Groups on gopigo.io
The GoPiGo Raspberry Pi Robot Classroom Package includes five GoPiGo3 Starter Kits and everything else you will need to outfit your classroom with Raspberry Pi robots.
$1,290.00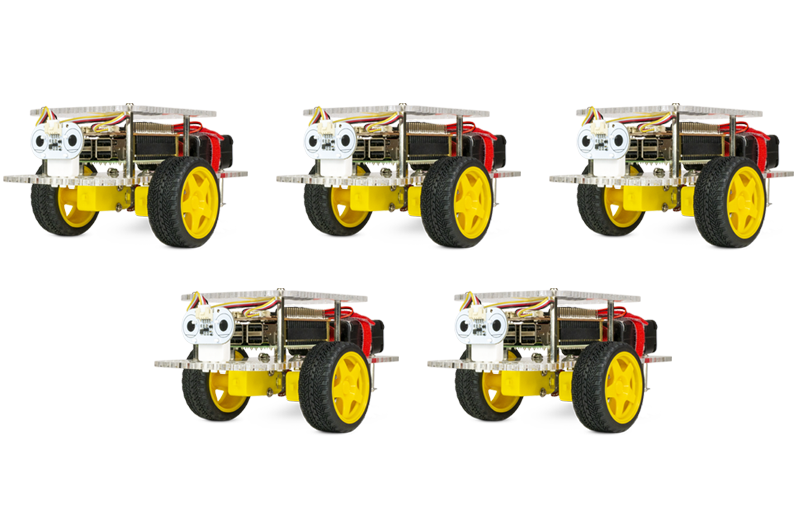 Visit the GoPiGo Product Support & Documentation page for step-by-step tutorials, technical specs, detailed product pictures, and sample code libraries.
The GoPiGo3 Classroom Package includes 5 Starter Kits and extra materials to support the robots in your classroom:
5 Rechargeable Battery Packs with Smart Chargers
5 Storage Bins
1 Teacher Getting Started Guide
1 Extra USB Drive for teacher/facilitator use
1 Spare Parts Kit
10 Dexter Industries Stickers
* More advanced users that want to connect the robot to the internet or want to code in C, Java or Node.js should use our other software, Raspbian for Robots, available to download and install for free.
What's required for assembly?
Assembly instructions can be found on the GoPiGo support page.
Note: If you have a Macbook Air without an ethernet jack, you might want to get an ethernet to USB adapter.
What else do I need to know?
Works with all versions of the Raspberry Pi.
Software examples and API are provided by Dexter Industries (open-source repository on Github)
Lego Technic bricks: GoPiGo is compatible with Lego Technic parts, but we don't sell them.
How do I know which version of the GoPiGo I have?
GoPiGo3 has the red GoPiGo board on top. GoPiGo2 has the red board on bottom and comes with a red velcro strap for the battery pack.