In this tutorial we show you how to Take a Picture in Scratch using the Raspberry Pi Camera and the Raspberry Pi computer.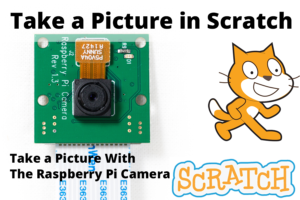 We show you how to take a photo using Scratch with the Raspberry Pi and the Raspberry Pi Camera. In this tutorial, we use the GoPiGo Raspberry Pi Robot, but the tutorial will work with the GrovePi, BrickPi, and our other robots for the Raspberry Pi as well.

You can also see our tutorial on installing the Raspberry Pi Camera here!
Learn More!
If you liked this tutorial, consider buying the Raspberry Pi Camera here and the GoPiGo Starter kit here to try out yourself.
EDUCATORS
Check out our DexterEd page to learn about our Classroom Kits, Curriculum and Teacher Trial program.