Looking for a last-minute gift for the holidays?
A robot subscription is the best gift for the growing tech guru on your list! A full robot is delivered in time for the holidays* and then monthly shipments into 2021 keep their young mind engaged. A monthly hardware delivery corresponds with a new online challenge to keep them coding and retaining what they've learned. We offer a few options depending on expertise. Total beginner? No problem. Already learning a programming language? Even better!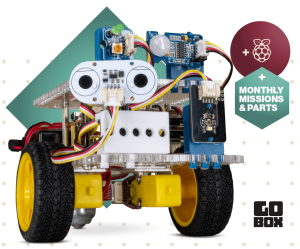 GoBox
Designed for the robotics rookie, GoBox is the gift that keeps you growing. Every month you'll practice and build essential new skills in robotics and coding. GoBox missions also introduce engineering fundamentals and design thinking.
Every mission includes step-by-step instructions that ensure your progress. Story-driven challenges help you find creative solutions to problems inspired by today's most advanced robots.
Here are just a few of the tasks your robot will complete across the 12 GoBox missions:
Play a game of Red Light, Green Light ⚈ Send coded messages ⚈ Give a visual clue every time the robot hears a noise ⚈ Deliver packages around a neighborhood
GoBox:
Beginner friendly
No coding experience required
Designed to help you go far and get creative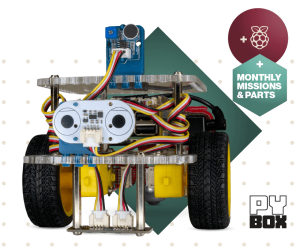 PyBox
PyBox helps you explore robotics and go further with Python coding. It is designed for intermediate Python learners to help you hone your craft and creativity. Five monthly shipments deliver new robot parts and activities direct to your door. PyBox is the perfect way to go further with Python and the GoPiGo Raspberry Pi robot.
Here are just a few of the tasks your robot will complete across the 5 PyBox challenges:
Rescue a lost team of scientists from the middle of the jungle ⚈ Create a product-picking robot for big warehouses ⚈ Navigate a maze-like obstacle course
PyBox:
For intermediate learners
Previous text-based programming experience recommended (doesn't have to be Python!)
Designed to help you go far and get creative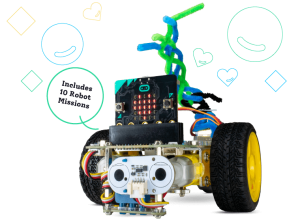 Gigglebox
Meet the bite-sized robot subscription for messing around with robotics. GiggleBox is a short 4-month subscription that delivers multiple robot missions every month, alongside a series of add-on parts, and robot extras. GiggleBox is the perfect gift for anyone who wants to explore robotics with their kids.
Here are just a few ways you'll play with your robot during a Gigglebox subscription:
Have a dance party ⚈ Make a bright light show ⚈ Invent your dream robot pet ⚈ Optimize a helpful robot for a construction crew ⚈ Turn your robot into a remote control car ⚈ Teach your robot to drive itself
Gigglebot:
For beginners
Ready to dabble in robotics
Designed to help you get creative at your own pace