Meet the new Robotics Challenges for Python and GoPiGo.
Explore more than 20 hours of intermediate Python activities with Jupyter Notebooks and the GoPiGo robot. Complete this series of five challenges to learn and practice all sorts of computer science essentials.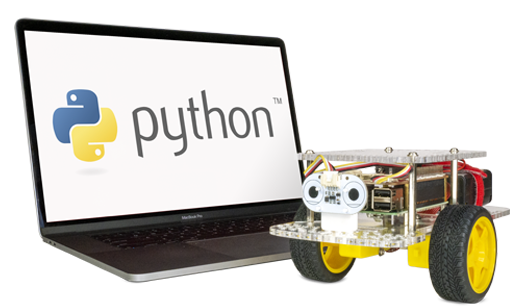 Challenge 2
Assistive Technology Designer
Build a robot to help a hearing-impaired friend see whenever a guest arrives at their house. Requires the Loudness Sensor and an LED.
Challenge 3
Search and Rescue Mission Leader
Design a robot that can navigate through the maze-like jungle, without bashing into things, and rescue a group of lost scientists. Requires two Distance Sensors.
Challenge 4
Robot Operations Manager
Improve the number of shipments a robot picker can handle for the world's largest online retailer, Amazing.com. Requires a Line Follower.
Challenge 5
Autonomous Courier
In this challenge, you'll build a color-aware mail delivery robot for the residents of GoPiGo Drive. Requires a Light & Color Sensor.
Required Hardware
In addition to a Raspberry Pi and GoPiGo robot, you'll need access to the following sensors and actuators to complete all five challenges.
1 x Loudness Sensor
2 x LEDs (different colors)
2 x Distance Sensors
1 x Line Follower
1 x Light/Color Sensor
1 x Sensor Mount 3-Pack