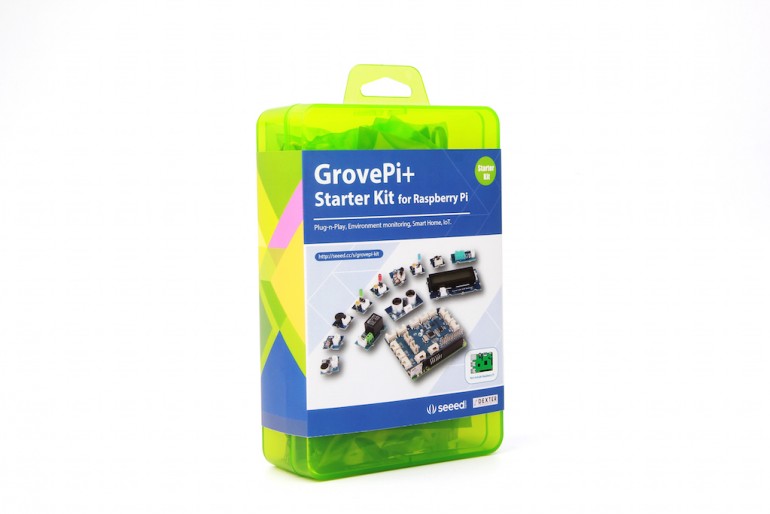 This month we're re-introducing the GrovePi+ Starter Kit.  The starter kit us updated with a new set of sensors, and the new GrovePi+ board.  It comes in a handsome plastic case, along with printed instructions on how to get started.
New in the Starter Kit
Most notably, we've added a beautiful set of color printed instructions to get started with the GrovePi+.  We cover everything from connecting to the GrovePi to your first few project examples with the GrovePi.
Like the previous GrovePi Starter Kit, the new kit comes in an attractive, sturdy green plastic box.  All the sensors and the GrovePi+ come packaged in the box.
We've made a few changes to the sensor lineup.  Most notably, we've replaced the Grove OLED sensor with the Grove LCD RGB.  The new sensor is simpler to use, and a little less likely to be damaged.
New on the GrovePi+ Board
The GrovePi board is fully compatible with the previous GrovePi board, but comes with a few minor upgrades.  In particular, we've made it easier to upload firmware directly from the Raspberry Pi.  Previously, to upgrade the firmware, you were required to connect jumpers on the board.  Now, firmware can be updated automatically with no changes to the board.
Also, the new board makes room for a camera ribbon, making it easier to attach a camera to a GrovePi setup.
We have added holes to the board layout so that you can better support the GrovePi board with supports.
Compatibility
The GrovePi+ Starter Kit and GrovePi+ Board, like the GrovePi, are compatible with the Raspberry Pi 2, the B+, the B, the A+, and the Raspberry Pi Model A.
Unboxing Videos
What new product would be complete without an unboxing video?