We've just updated our instructions and improved Scratch for the BrickPi.  It's now simpler than ever to get started making and programming a Scratch Raspberry Pi Robot!
What's Changed with Scratch?
---
This summer, we devoted a bit of effort to updating the the BrickPi software.  It's now easier to install, and easier to program with.  We fixed quite a few things:
Start the background program once, and forget about it.
We've added a shortcut to the Pi Desktop.  Click once and forget about it.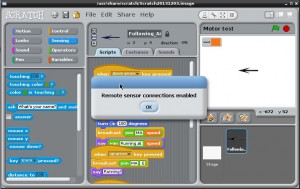 Where do I start?  A Scratch Raspberry Pi Robot.
---
First, you'll want to get the latest Raspbian Image.  It works on both the Raspberry Pi Model B and B+ and can be downloaded for free from our sourceforge site.
Next, take a look at our Scratch Getting Started page.  We've totally redesigned it.
What other options do I have?
---
If you want to program your Raspberry Pi robot in a graphical language, you have other options.
 Wyliodrin
---
These folks have put together a fantastic package for programming Raspberry Pi Robots.

BlockyTalky
---
The enthusiastic team at BlockyTalky continue to develop a graphical programming language for the BrickPi.  This team is putting some awesome projects together, with a fun focus on music.