Raspberry Pi
GrovePi is built on the Raspberry Pi, a powerful little computer you can now use to control sensors.
Plug-n-play
Over 100 Grove sensors, so you can focus on programming instead of soldering.
Internet of Things
GrovePi helps you connect, monitor, & control all the stuff in your life.
Plug-n-play Sensors Made Easy
GrovePi is an electronics board that you can connect to hundreds of different sensors, so you can program them to monitor, control, and automate devices in your life.
GrovePi ZERO
Plug and play sensors and modules for your next Raspberry Pi Zero connected device project. Make IoT Hardware Devices Effortlessly.
GrovePi Weather Station
"My 5th grade students are learning how technology measures the weather through this GrovePi Weather Station project. This is a wonderful way for students to experience technology by building, coding, and gathering data."
-Frances Hickey, Citrus Park Elementary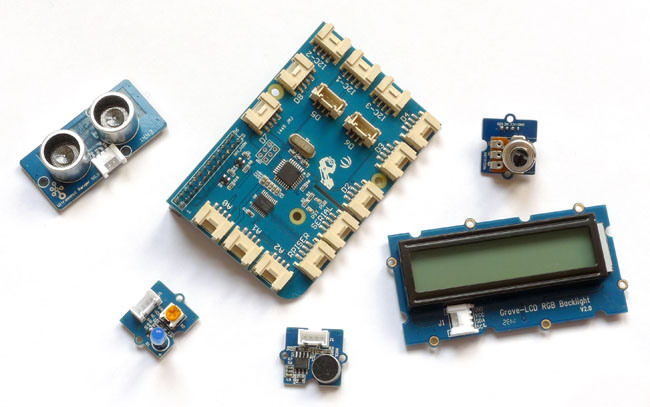 GrovePi in Education
"It's good for schools who want to teach how programs affect the real world but don't want to get bogged down in electronics."
GrovePi Sensors
GrovePi works with over a hundred different Grove sensors, but here's a few of the most popular.
Learn more about the 
GrovePi
Visit our GrovePi Tutorial & Documentation page for step-by-step instructions, technical specs, detailed product pictures, and sample code libraries. Got a particularly specific question? Check the Dexter Forum.