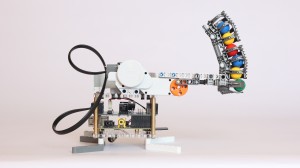 We've just launched a Kickstarter campaign for the BrickPi!  We've had a phenomenal response, surpassing our funding goal by over 800% in just a few days.
The campaign is fully funded, but that doesn't mean the work is over.  Please take a look and give us your thoughts: on the design, the models we built, and what we could do better!  The primary reason we wanted to do a Kickstarter campaign for this project was to try to get community feedback.
Check out the project and let us know what you think about it.  We have a bunch of new video and pictures up on the Kickstarter page that showcase some of the projects you can build with the BrickPi.
And if you'd like to back the project, that's awesome too!