microSD Card – DexterOS
This 8GB microSD Card comes with the Dexter Industries custom software, DexterOS. This includes all of the software you need to make your Raspberry Pi (all versions) work with the GoPiGo2 & GoPiGo3. We recommend buying our USB drive for doing updates and storing photos taken with the Pi camera.
$14.99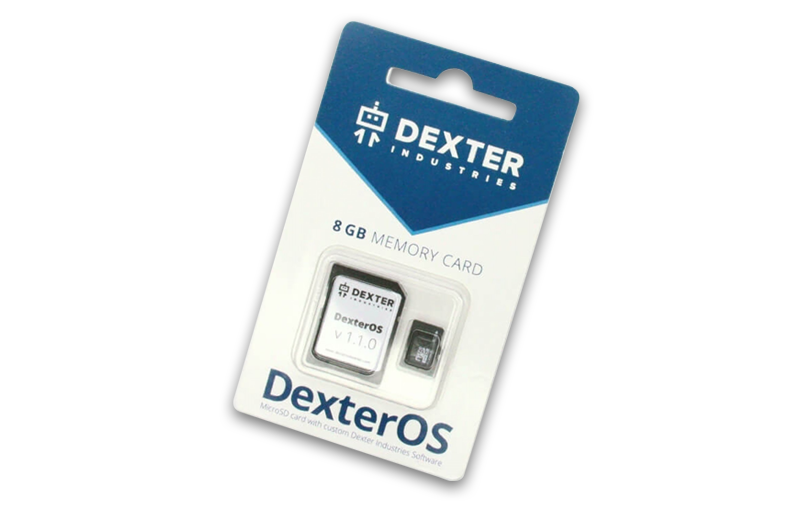 DexterOS is the easiest way to get started with the GoPiGo robot car. This microSD card comes pre-configured with our custom software, so all you have to do is plug it in and turn it on. DexterOS is the quickest way to get connected to your robot and start programming!
You'll want to get a USB Drive to do OS updates quickly, and store photos taken with the Pi camera.
Key Features of DexterOS:
Learn to code in Python & Bloxter.
Requires the Dexter Industries Wifi Dongle.
Dozens of free, built-in lessons in Bloxter, our drag-and-drop language similar to Scratch, that teach you how to program the robot to move, and use many different sensor accessories.
Python programming built-in.
Fun drive screen that allows you to get it moving quickly and learn how it drives around.
No software to download on your computer or tablet.
Works on Chromebooks, laptops, tablets and anything with wifi.
Requires a wifi connection — DexterOS creates a closed wifi connection between the robot and your computer. That means that you will NOT be on the internet and cannot do more sophisticated things like import a python library or connect to Twitter or Google Cloud Vision. If you want to do more sophisticated programming in Java, C, Node.js and others, please use our main software, "Raspbian for Robots", which you have to download and install yourself.
Make sure you and your students are careful not to turn the robot on and off or take the microSD card out while the robot is on. You always want to shut down the robot inside the software when you are done.
We recommend DexterOS software for classrooms, workshops, camps and other places where there might be challenges connecting to a normal wifi network (because of IT security settings at schools for example).
The Dexter Industries microSD Card w/DexerOS comes with a microSD card inside of a standard card adapter. It is shipped in a white plastic jewel case for protection.
Note: DexterOS is not currently compatible with the BrickPi, GrovePi or PivotPi. Those robots use Raspbian for Robots.