BrickPi turns your Raspberry Pi into a LEGO® robot. Your credit card sized computer enters the physical world.
What's a BrickPi?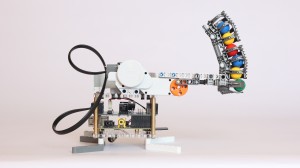 BrickPi is a system that converts Raspberry Pi into a robot.  The product connects LEGO® Mindstorms Sensors, motors, and parts to turn your credit card size computer into a robot.
The BrickPi allows you to connect up to 4 Motors and 5 Sensors.  It has a 9V battery power source that powers the motors, sensors, and Raspberry Pi, un-tethering the Pi from the wall.  It has a sturdy case with holes that snap with LEGO parts.
The brains of a Raspberry Pi joined with the LEGO building system.
BrickPi is designed by Dexter Industries and enthusiastic contributors and engineers.  It is manufactured by Dexter Industries, a leader in educational robotics.
Your Favorite Languages
You can program the BrickPi in Python, C, Scratch and many more languages.  The BrickPi allows you to use your favorite language on your robotic inventions.
Open Source
The project and designs are all open-source:  take it apart, see what makes it tick, and make it better here.
Purchase
The BrickPi, as well as a number of accessories, is for sale now.  You can buy one here.
Please ask a question or post a comment about the BrickPi here!