Google Cloud Derby Robot Kit
The Google Cloud Derby Robot Kit includes everything you need to get started with the Google Cloud Derby project. Includes a GoPiGo3 Base Kit, Raspberry Pi 3 B+, Distance Sensor, microSD Card, a servo gripper, a fish-eye camera, and 3D printed mount for the servo and camera.
$275.34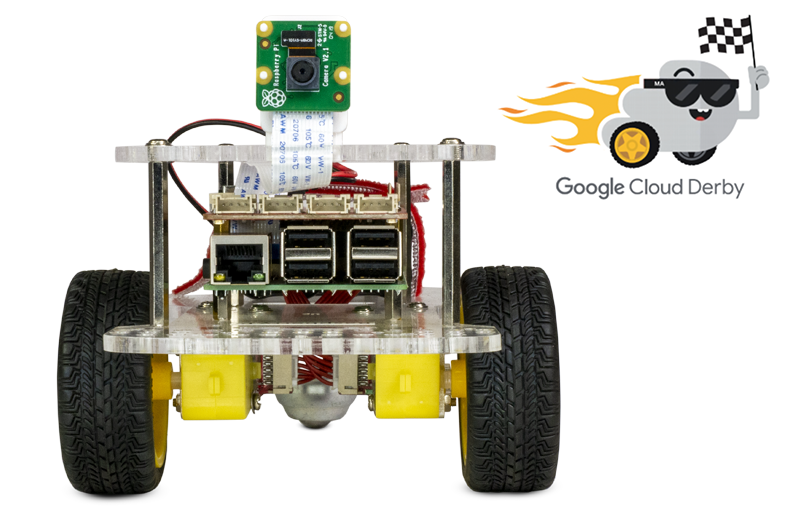 Cloud Derby Robot Kit
What's included?
Raspberry Pi 3 B+
A fish-eye camera
A servo gripper kit
A 3D printed servo and camera mount
This kit provides all the parts and hardware you need to build a self driving robot that plays a ball game against other robots.  The robot uses the following services:
IoT Core
Pub/Sub
Cloud Storage
Compute Engine
App Engine
Cloud Functions
TensorFlow
Cloud Machine Learning
DialogFlow
Security
Cloud Networking
GSuite
What else do I need to know?
Visit the GoPiGo Product Support & Documentation page for more step-by-step tutorials, technical specs, detailed product pictures, and sample code libraries.
What else can I do with it?
We have lots of free projects online you can try such as building a GPS guided robot, browser streaming robot, attach a cannon to it, drive  it with a PS3 controller, or program it to protect your room from intruders . . . and many more.